TRAINING STATION ATHLETIC CLUBS
MX4 and TRX SCHEDULE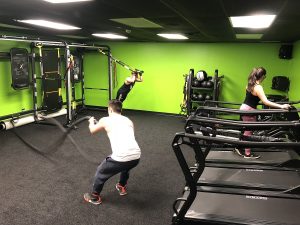 MX4
We are excited to offer you the latest concept in High Intensity Interval Training Workouts!
In each MX4 session, you will experience a series of exercises that will help build cardiovascular fitness, power, strength and endurance. With individualized attention, you will move through the program in a way that matches your fitness level and goals.
Every high energy session uses a variety of innovative Matrix equipment including S-Drive self-powered treadmills and rowers, plus TRX Suspension Training, battle ropes, slamballs, kettlebells, resistance bands, landmines and more!
TRX
TRX suspension training uses your own body weight and gravity to build strength, balance, coordination, flexibility, core and joint stability.
You can minimize your training time by working your entire body, switching from one exercise to the next in just seconds. Do you know what the best part is? During every exercise you will engage your core. A strong and stable core is important to help prevent injuries, not just in your low back but in your entire body.
Another advantage is, by using your own body weight and gravity, you are able to adjust to your own personal fitness level just by walking yourself closer or further away from the anchor point of the straps. That means you do not have to go grab a different set of dumbbells or add more weight to the machine, you just simply adjust your foot placement. This keeps you constantly challenging your body efficiently through every exercise.